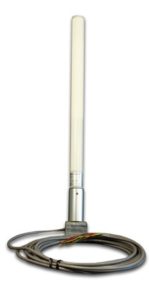 Gateway Stick
Integrated gateway and high-gain antenna
Features
Optional Ethernet Modbus TCP interface
Optional Analog Output Module
Unique design integrates high-gain, omni-directional antenna and gateway electronics in one place
Tough materials withstand rugged outdoor environments
RS485 Modbus RTU interface
RS232 configuration and debug port
Optional remote shutdown programmable control logic, no additional PLC required
Stores the most recent readings of all nodes in the network in Modbus format
Times out readings from off-line sensors
Manages outbound communications
Reduces power consumption
Mounts with clamps, brackets, or standard electrical/plumbing fittings
500mW radio with high gain antenna
Automatically configures as a star or mesh network
Class 1 Division 2 (C1D2), Temp Code T5, Groups C&D. Conforms to ISA 12.12.01 and UL 916, Certified to CSA C22.2 No. 142 and CSA C22.2 No. 213
Description
This rugged, integrated device combines a high-gain antenna with gateway electronics in a single, easily mounted package.
Gateway Stick combats a common problem with RF networks, which are increasingly used to monitor and control remote devices over tens or hundreds of square miles. Gateways traditionally have different location requirements for their electronics module and antenna, making it necessary to place them separately. Gateway Stick is a revolutionary solution that combines them in one easy-to-install component.
Technical Specifications
Operating Temperature: -40 – 85ºC
Humidity: 0 – 100% condensing
Power: 6-36 VDC
Data Interface: RS-485 Modbus RTU, or Modbus-TCP, RS 232 for configuration.
All readings are converted to Modbus registers and stored in the gateway.
Radio Power: 500 mW
Antenna Type: Omnidirectional
Antenna Gain: 5dB
Receive Sensitivity: -105 dB
Frequency: 902-928 MHz license-free ISM band compliant with FCC Part 15.
Range: 3 miles (typical) much farther with careful placement.
Networks: Up to 240 separate networks.
Enclosure: Weathertight, integrated electronics and antenna. Integrated cable (25′ standard), NEMA 3R (GW Stick).
Safety Rating: Non-incendive, Class 1 Division 2 Groups C and D, T5.
Internal Diagnostics: Line voltage, signal strength, error conditions event logging.